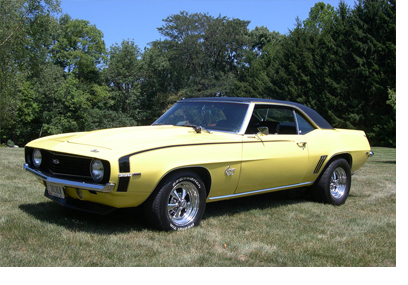 Mustang. Charger, Challenger, Nova, Camaro, Chevelle, GTO, just the names of these and many more not mentioned here of these great American muscle cars from the 50's and 60's makes your hairs on your arms stand up on end in excitement. Why do so many action films feature cars from this era as the 'Hero Car'. Why do these machines make so many people stop and stare. Is the engines. Is it the styling. Is it the noise they make.
I'll tell you what it is, all of the above and more. My first experience of these great cars was a visit to Santa Pod Raceway way back in 1978, the very first time I witnessed Drag Racing. I loved the sound that these cars made, burbling V8 engines on tick-over into a rumble when driving to the startline, then full on power sounding like a pack of angry lions. I was hooked and ever since then my dream was to own one of these great cars. I didn't realise however that it would take me another 35 years to make the dream become a reality.
I am incredibly fortunate to be a member of the commentary team at Santa Pod for nearly 7 years which means that I am constantly surrounded by so many great machines that make any petrol head dream about wanting to have their own. Perhaps that is why I always sound excited throughout my days commentating with Darryl Bradford in the tower. We have our very own imaginary car transporters and keep trying to say 'mine' before each other as the cars come round. I really do love all of the cars and I honestly did not know what I wanted, but as they say, you only live once, so loan secured and the search was on. No rush, a 2 year plan was hatched and.....wow. A certain car appeared on the startline and I knew instantly it was what I wanted. The young man responsible for this, Nic Williams. The car, a 1969 Chevrolet Camaro SS 396. He had only picked the car up a couple of days previously and was running the car at the Flame & Thunder event in 2012. The car looked amazing and was running some good numbers, little did I realise that this car would result in the car you see here. Despite my begging and give me first refusal when you sell it, the realisation became obvious that this car will not be available for the forseeable future, so the search was truly on.
A few false starts then the search took on a new phase when a couple of strong contenders appeared on various websites, but located in the USA. Very nervous about this as I never even thought about importing a car, but talking to many of the Drag Racing family it became clear that this was the way to go. Then it appeared...I had found it...an advert on Auto Trader Classics. 1969 Camaro SS 396. Great condition and sensibly priced. Amazing specification, basically everything I would have wanted engine and transmission wise, but was not sure on the colour. Was I still dreaming though, would I actually go through with it.
Next hurdle, how on earth was I going to get Clare, my wife to approve of spending so much money. How much is that to insure bearing in mind that it is a 7.5 litre V8 with about 500 horses under the hood, well actually darling only £150 a year, classic car policy. What about the road tax, the CO2 must be off the scale. Well Babes, the cost is nothing, a car built in 1969 is exempt from paying for a tax disc. So far so good. What about the mpg? Erm.....about 8, but I won't be going far....and the car will never loose value. I'll sell the Audi and take on your car, you can have a new one. Approval gained, love you forever.
By this time Nic and Dan Williams, Williams Bros. racing had become great friends and of course, Nic's business is OCS Paint, so a re-spray could be done easily. After numerous phone calls to Ohio USA to the owner of the car and lots of emails of documents, the deal was done after a 1 1/2 hour FaceTime video call so that Nic and I could inspect the car without flying over to see it. Risky I know but Bill and Sherrie were fantastic owners of this car for 11 years and you know sometimes when things are just right. Deal done, money transferred and shipping arranged, the car was on its way.
Early August arrived and time to collect the car from Southampton docks. What a car, even better than expected. The car was collected and on arrival to OCS the reception committee were waiting like hungry wolves. They pounced on the car the moment it came off the trailer and into the workshop for the first inspection. Yep, it was a good one, thank god for that.
Bruce had arrived, my dream finally realised. But now the fun really starts as the next phase is turning this great icon of 60's muscle cars into the awesome machine you see here. Just a 3 week re-spray....yea right....
ps. kept the Audi :)
__________________________________________________________________
CLICK HERE for a feature on Bruce on the V8UK Website